Disclaimer: this is written my Boy Belize and is his Humble Opinion check for him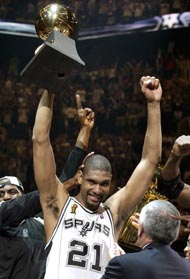 First off lemme say "I hate Bow Wow". Really. Not a fan of his music, probably due to the age difference, but (!) I gotta respect dude. Seriously. Yesterday me and Cip were talking and I came to the realization that Bow Wow is probably not going anywhere anytime soon. So why (you maybe yelling right now) is the artist formally known as Lil' being compared to Tim Duncan you may ask?
Well, just like Bow Wow, he's one of the least appreciated players in the game. Sure they have the hardware - i.e. 3 Championship rings/3 Platinum Plaques - but I don't care who you are, when you talk to avid sport fans about who's the illest in the game and you say Tim Duncan, some dude is gonna scream "Fuck Tim Duncan!"
This goes for the rap game too, ask any "Hip-Hop" fan (A) what their view on Bow Wow is and you probably will get a unanimous answer of "Fuck Bow-Wow!"
So why the hate? My idea is the way they "play" the game. Tim Duncan is a fundamentalist. He plays the game just like Lennox Lewis boxed. He plays to win. Nothing more, nothing less. Do you think Tim Duncan care if some
dude posterizes
him on the court? Do you think he cares if you don't like his
MC Hammers
, of the world can understand this simple rule in life. Lil Bow Wow..errr..Bow-Wow, makes music for women/girls/bitches. Simple and plain, and many emcees have found this hidden gem to success. LL Cool J did it and still does. Ma$e did it (
weak and corny 1st single
, but that new single with T-Pain will guarantee a Platinum Plaque. You can bet your piggybank on that. Don't believe me? Watch. If Bow has one more catchy single after this, it's a wrap. He'll be multi-platinum by the end of the year, with
no heavy promotions
, and probably still no love from Hip-Hop listeners. But! He'll be more rich than your favorite rapper and probably get more pum-pum than
Mr. 20,000
himself.
Isn't that the goal of every star?
Well, Bow-Wow, just like Tim Duncan, I still don't like your game, but I tilt my brim to you both.
Get your guap.
The only and major argument that I have against this point. Is that Tim Duncan as well as LL are well respected amongst their peers and I dont get the feeling that Bow Wow is even respected on any level, besides most rappers are not fucking with him cuz Bow Wow stays in his own lane. He will continue to be the shortest Nigga in the club and also very successful at playing his position and therein lies the comparison to Tim Duncan and where it ends. Big Up Belize on a strong first effort my nigga and hopefully only the beginning of these Collabo's